ARTIST STATEMENT
I delight in taking found antlers, horns and bones, ethically sourced, and transforming them into fine sculpture — meaningful objects of rare beauty.
The mode of carving is suggestive of a way forward for our rapidly changing planet, one in which we'll create beautifully original solutions, ethically and sustainably, directly with nature.
Duality
I became aware of duality early on as a left-handed child in the right handed world of the 1960's. So many 'preferences' were considered right or wrong back then.  To function in a right-handed world, I learned to do everything, except writing (thanks Mom and Dad), in a right-handed fashion. Scissors, baseball gloves, student desks, even following directions, left or right, proved challenging.
Later I learned that left handedness comes from the orientation of the brain's structure – its hemispheres. And more than this, that certain characteristics were attributed to persons who were either left- or right brained: logical thinking and creative feeling.
It is this left brain-right brain duality that I explore in my work with carved curved and angled elements (see Duality, 1997), carved on each hemisphere, or side, of the sculpture. However, as brain researchers discover the two hemispheres work together, I have begun to integrate the curved and angled elements in my sculpture.
Creativity within Limitation
Presciently, the environmental scientist, Donella Meadows, stressed the importance of integrating feeling and thinking. "Feelings, like knowledge, don't directly change anything. But  feelings and knowledge together are motors for change." And change we need!
Humans are faced with a series of planetary limitations or 'boundaries', which, if exceeded, will make the Earth uninhabitable. Clearly we need to learn to live within these planetary limits.
It is amazing to see what can be accomplished creatively within the limits of an artistic medium; greater creativity, often, than if there were no parameters at all. As I work to realize my integrated designs within the natural limits or boundaries of antler, horn and bone, my ardent hope is that humanity will learn to work creatively within the natural limits and boundaries of nature.
Moose Antler
A moose's two antlers resemble our own two hands, palms facing toward us, thumbs out. Appropriately named, the large flat area on a moose antler is called the palm, the 'fingers' are called tines. The palm is the principal surface used for carving, and can act as a canvas for figurative portrayals or abstract treatment. Antler is structured like a sandwich in cross-section. The outer layer is hard and holds detail and polish well. The inner layer is porous and holds moderate detail and polishes reasonably well.  Antler is a warm medium, unlike stone.
I source my antler from Canada's Yukon, where there are over 70,000 moose and more caribou. The bulls shed their antlers every year after mating season. A small number of these antlers are collected to be carved. Moose are also subsistence hunted by Yukoners. A few thousand are taken annually. The government has been encouraging hunters to take the whole animal out of the bush after the hunt, including the antlers.
Carving Tools
Antler is difficult to carve by hand with chisels and rasps. Antler became available artistically as a viable sculptural medium in the 1970's, following the advent of consumer grade electrical grinding tools. This is when angle grinders, die grinders, flexible shaft grinders, and micro-motor grinders entered the hobby market.
Antler carving is possible largely because these power tools make use of burrs. Burrs are similar to drill bits, but with shaped ends: cone, cylinder, sphere, each with embedded cutting blades or abrasive surfaces. They are made from high speed steel, tungsten carbide or an abrasive matrix. The cutting edges are either single or double fluted.
In order to create stunning detail in a carving, the preferred tool is the micro-motor grinder. The motor that spins the burr is small, as the name suggests and resides in the handpiece itself. The hand-piece is wired to a control box, which controls the speed and direction of the rotation, and can accommodate a variety of burrs. It is used as an artist uses a pencil, to shape the work, creating contour, outline, shadow and infinite detail.
Unlike the hobby-grade Dremel Tool, the micro-motor tool is a precision instrument, finely machined with no wobble and negligible vibration, making them a joy to use. The micro-motor tool is a variant of the grinder the local dentist uses when carving your ivory.
CURRICULUM VITAE
Public Collections And Commissions
Ceremonial Antler (video) – produced for Yukon University Convocation 2020 & 2021
Brush Creek Ranch Permanent Art Collection: Curvy Caribou  (Commissioned by Kevin Barry Fine Art Consultants for the Farm at Brush Creek, Cheyenne Club Entrance), Brush Creek, Wyoming, USA, 2021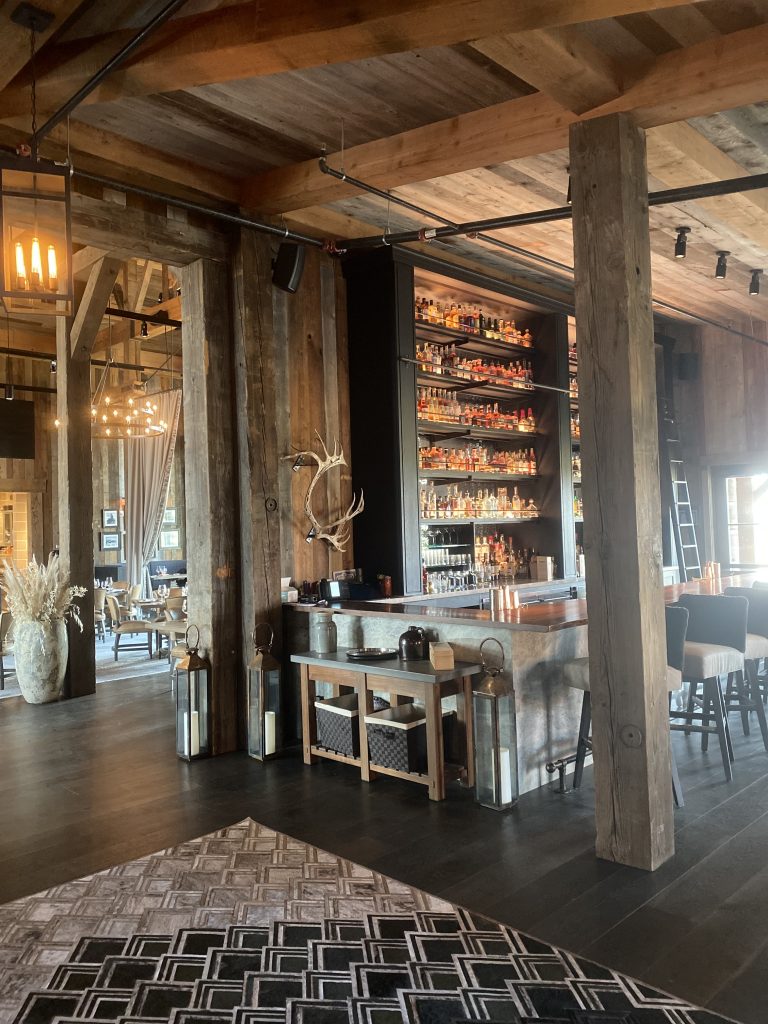 Curvy Caribou – caribou antler – 45x35x15in, entrance of Cheyenne Club, Brush Creek Ranch, Wyoming, USA, 2021
Yukon University: Ceremonial Antler (Commissioned by Jacqueline Bedard for donation to the Yukon University Foundation, to be carried at Yukon University Convocation Ceremonies), Whitehorse, Yukon, Canada, 2020
The Four Seasons Hotel Toronto Permanent Canadian Contemporary Art Collection: Candle Ice Two (Commissioned by James Robertson Art Consultants and Yabu Pushelberg for the Four Seasons Hotel Toronto), Toronto, Ontario, Canada, 2012
The Haines Junction Permanent Art Collection: Skullpture Series – Gaia (Donated in full by the artist), Haines Junction, Yukon, Canada, 2009
The Yukon Arts Centre Gallery Permanent Collection: Self Portrait (Donated by Earl Bennett and the artist), Whitehorse, Yukon, Canada, 2009
The Yukon Arts Centre Gallery Permanent Collection: Candle Ice, acquired 2008, Whitehorse, Yukon, Canada, 2008
The Haines Junction Permanent Art Collection: Skullpture Series (Fourteen works in bronze, donated in full by the artist), Haines Junction, Yukon, Canada, 2007
The Governments of Yukon, Northwest Territories and Nunavut: Three Northern Torches representing Yukon, Northwest Territories and Nunavut (each Territory's representative Torch donated by the Canada Winter Games Host Society to that Territory for permanent display), Canada, 2007
The Whitehorse 2007 Canada Winter Games: Three Northern Torches representing Yukon, Northwest Territories and Nunavut (Commissioned by Touch The North Inc. for donation to the Canada Winter Games Host Society), Whitehorse, Yukon, Canada, 2006
The Yukon Permanent Art Collection: Yukon Seasons (Donated in full by the artist, dedicated, with gratitude, to Ruth McCullough, for her hard work and singular dedication to fostering visual art and fine craft in Yukon), Whitehorse, Yukon, Canada, 2006
The Yukon Hospital Foundation: Tundra Swan (commissioned as a symbol for the "Under Our Wings" Fundraising Campaign), Whitehorse, Yukon, Canada, 2005
J.C. Wilson Chemicals Ltd.: Humpback Breaching (commission), London, Ontario, Canada, 2005
The Collection of Yukon Member of Parliament, the Hon. Larry Bagnell: The Shooting of Dan McGrew – on loan to the MacBride Museum, Whitehorse, Yukon, Canada, 2004
The Collection of The Right Honourable Paul Martin, Prime Minister of Canada: Yukon Voice (commissioned by the Yukon Territorial Government as a gift, upon his visit to Yukon, August 13-14), Montreal, Quebec, Canada, 2004
Redism.com: A New Kind of Art Gallery: Virtual Art Competition and Gallery (sponsored by Bass Beer)- Award: First Place – Sculpture for Celtic Confusion, Online, 2003
The Grand Slam Club: Faro Fannin, commissioned for Foundation for North American Wild Sheep (FNAWS) Convention, Reno Nevada, U.S.A., 2001
The Collection of Yukon Supreme Court Justice, the Hon. Ron Veale: Denali (on display in his Chambers), Whitehorse, Yukon Canada, 2000
The Yukon Permanent Art Collection: Raven: Bringer of Light (50% donation artist/50% purchase by Friends of the Gallery), Whitehorse, Yukon Canada, 2000
Arctic Winter Games 2000: Denali (commission to represent Team Alaska), Whitehorse, Yukon Canada, 2000
City of Dawson: Five Ivory Broaches (commission) Dawson City, Yukon Canada, 2000
Shows
Borealis and Oreithyia, Ongoing Display, Westin Resort Whistler Lobby, Whistler, B.C., Canada, 2019-Present
Borealis and Oreithyia, Ongoing Display, Four Seasons Resort Whistler Lobby, Whistler, B.C., Canada, 2016-2019
'Pieces of Canada', Alces Madonna, Niagara Falls History Museum, Niagara Falls, Ontario, Canada, 2017
'Inaugural Exhibition', Seahorses, Museum of Post Contemporary Art, Virtual Gallery, Online, 2014
'Art Takes Times Square', Celtic Confusion, Times Square, New York, USA, 2012
'Sculpted Dimensions', Seahorses, Buckhorn Fine Art Festival, Buckhorn, Ontario, Canada, 2011
'International Year of the Forests Exhibition', Seahorses, Black Bear Birch, Black Bear Oak, Wolf Pine Beetle Galleries – Silvi Skullpture, Algonquin Art Centre, Algonquin Park, Ontario, Canada, 2011
'Art of the Commons', multiple works, Wildlife Art Journal, Online, 2011
'Art of the Commons', multiple works, Wildlife Art Journal, Online, 2010
'Instructors' Show' – Series: Summer School for the Visual Arts, Seahorses, Red Deer College Library, Red Deer College, Red Deer, Alberta, Canada,  2008
'The Art of Change: Works from the Yukon Permanent Art Collection, Raven: Bringer of Light, Yukon Arts Centre Gallery, Whitehorse, Yukon, Canada, 2005
'Explore and Embrace a Special Wild Place', Tundra Swans, (sponsored by The Wildlife Viewing Program and Yukon Government, in collaboration with the Yukon Art Society), Yukon Art Society Gallery, Whitehorse, Yukon, Canada, 2005
'The Vernacular of Robert Service Festival Show', The Shooting of Dan McGrew, MacBride Museum, Whitehorse, Yukon, Canada 2005
'Tenth Anniversary Annual Robert Service Dinner': Commemorating the 100th Anniversary of Robert Service's Arrival in Yukon, displayed The Shooting of Dan McGrew, Whitehorse, Yukon, Canada 2004
'The International Exhibitions of Sculptural Objects and Functional Art (SOFA)', accepted to attend with portfolio as a member of Canada's Trade Mission, organized by the Canadian Consulate General in Chicago, Chicago, Illinois, USA, 2004
'Instructors' Show' – Series: Summer School for the Visual Arts, Dall Sheep Duality, Red Deer College Library, Red Deer College, Red Deer, Alberta, Canada, 2004
'Grand Opening Show', Yukon Seasons, Grizzly 1 and Small Wolverine 1 – Skullpture Series, Yukon Artists @ Work Gallery, Whitehorse, Yukon, Canada, 2004
'Redism.com: A New Kind of Art Gallery: Virtual Art Competition and Gallery' (sponsored by Bass Beer), Celtic Confusion, First Place – Sculpture, Online, 2003
'Yukon Arts Centre Gallery Tenth Anniversary Show', Candle Ice, Yukon Arts Centre Gallery, Whitehorse, Yukon, Canada, 2002
'FNAWS – Foundation for North American Wild Sheep Convention', Faro Fannin, Reno, Nevada, USA, 2001
'Euroart 2000' (selected by Euroart 2000 to represent Canada), Celtic Confusion, Candle Ice, Duality, Barcelona, Spain, 2000
'New Beginnings', Celtic Confusion, Odd Gallery – Grand Opening, (Gallery and Show opened by Her Excellency, the Right Honorable Adrienne Clarkson, Governor General of Canada), Dawson City, Yukon, Canada,  2000
'Convergence: The Exhibition of the 2000 Arctic Winter Games', Denali, Yukon Arts Centre Gallery, (Show opened by Her Excellency, the Right Honorable Adrienne Clarkson, Governor General of Canada),  Whitehorse, Yukon, Canada, 2000
'Light', Raven: Bringer of Light, Yukon Arts Centre Gallery, Whitehorse, Yukon, Canada, 1999
'Northern Encounters '99: A Circumpolar Festival of the Arts', Celtic Confusion, Candle Ice, Millennium Tusk (in progress), Toronto and Kleinburg, Ontario, Canada, 1999
'Love, Romance and Erotica', Celtic Confusion, The Guild, Whitehorse, Yukon, Canada, 1999
'The Great Northern Arts Festival', Celtic Confusion, Candle Ice (in progress), Inuvik, NWT., Canada, 1998
'The Fireweed Festival', Celtic Confusion, (First Place: Carving, Fine Art), Faro, Yukon, Canada, 1998
Whitehorse International Airport, (Ongoing display – various) Whitehorse, Yukon, Canada, 1997-2001
Publishing Credits
Ceremonial Antler (video) – Brendan Preston, Director, Editor & Cinematographer; Lucy-Anne Kay, Story and Narration – produced for Yukon University Convocation 2020 & 2021 (during COVID protocols)
Pieces of Canada – Exhibit Guide: 150 Objects – 150 Stories, by Suzanne Moase, Curator, Niagara Falls Museums, p. 34 Alces Madonna, Image and text, 2017
Transforming the Unexpected: Artist to Collect – Shane Wilson,  by Bret Anningson, Arabella Magazine: Canadian Art, Architecture and Design – Winter 2015, p. 160 – Borealis and Oreithyia, Big Horns Ram, Gaia, Tundra Swan, Yukon Seasons, Short Eared Parliament,  Duality, Seahorses, Self Portrait, Dall Sheep Duality, Wolf-Pine Beetle Galleries – St. Andrews, New Brunswick, Canada, 2015
Ornate Antler Sculptures by Shane Wilson, by Caro Buermann, Hi Fructose Magazine: The New Contemporary Art Magazine Blog – Gaia,  Borealis and Oreithyia, Alces Madonna, Short Eared Parliament, Yukon Seasons, Duality, Candle Ice, Candle Ice Two, Male Seahorse – Richmond, California, U.S.A., 2015
Carve, by Kent Wilson, Outdoor Lifestyle Magazine, Spring/Summer 2015, p. 88-89 – Short Eared Parliament – Dundas, Ontario, Canada, 2015
Art Takes Times Square, p. 102, edited by Jeffrey Aldrich – Celtic Confusion – New York, New York, 2012
Fine Art At Four Seasons Toronto, by Elaine Glusac, Four Seasons Magazine – Candle Ice Two – On Line Version, June 2013
True North, by Elaine Glusac, Four Seasons Magazine, Issue 2, p. 166 – Candle Ice Two – Greensboro, North Carolina, June 2013
Ice Floe II, Edited by Shannon Gramse and Sarah Kirk, Cover – Self Portrait – University of Alaska Press, Fairbanks, Alaska, 2011
Artist Workspaces: Shane Wilson's Studio, Branch Magazine: Private Parts, Issue 6 – Big Horns Ram, Melt (in progress) – Online, 2011
Algonquin Art Centre Blog and Newsletter: Interview with Shane Wilson – Black Bear Birch, Black Bear Oak, Wolf Pine Beetle Galleries – Silvi Skullpture, Self Portrait, Canada Winter Games Northern Torches, Gaia, Algonquin Art Centre, Algonquin Provincial Park, Ontario, Canada, 2011
Artist Feature: Shane Wilson, International Year of Forests: An Artist's Perspective, Gallery Program – Black Bear Birch, Black Bear Oak, Wolf Pine Beetle Galleries – Silvi Skullpture (in progress), Gaia, Black Bear 2 – Skullpture Series – Algonquin Art Centre, Algonquin Provincial Park, Ontario, Canada, 2011
Feature Artist: Shane Wilson, Branch Magazine: Wild, Issue 5 – Yukon Seasons (cover), European Robin, Humpback Breaching, Seahorses, Dall on the Rocks, Duality, Candle Ice, Celtic Confusion, Faro Fannin – Online, 2011
Series Summer School of the Arts Course Catalogue Red Deer College – detail of Male Seahorse used on cover and header graphics – Red Deer, Alberta, Canada, 2011
Wildfowl Art of a Different Nature, by Jim Clark, Wildfowl Art: The Journal of the Ward Museum of Wildfowl Art, Summer Issue, p. 22 – Jim details his learning experiences with master carvers Floyd Scholz and Shane Wilson – Ward Museum of Wildfowl Art, Ocean City, Maryland, U.S.A., 2010
Collaborations, Branch Magazine: Home, Issue 2.2 – The Shooting of Dan McGrew, a collaboration with Dwayne Cull and Robert Service – Online, 2010
Shane Wilson: Honouring the Power of Wild Life, by Todd Wilkinson, Wildlife Art Journal – Gaia, Celtic Confusion, Yukon Seasons, Duality, Candle Ice, Grizzly 2 – Skullpture Series, Tundra Swan, Self Portrait – Online, Boseman, Montana, U.S.A., 2010
Shane Wilson: Honouring the Power of Wild Life, by Todd Wilkinson, Trophy Rooms from Around the World, Vol. 15, p. 158-167 – Gaia, Celtic Confusion, Yukon Seasons, Duality, Candle Ice, Grizzly 2 – Skullpture Series, Tundra Swan, Self Portrait – Proguide Publishing, Poplar Grove, Nova Scotia, Canada, 2010
Antlers: A Guide to Collecting, Scoring, Mounting, and Carving, by Dennis Walrod, p. 158-167 – Celtic Confusion, image and artist bio – Stackpole Books, Mechanicsburg, Pennsylvania, U.S.A, 2005, (2nd edition, revised, updated and in colour, 2010)
A Celebration of Swans: Poster and Events Pamphlet – Tundra Swans, winner of the 2005 Celebration of Swans Poster Competition – Environment Yukon, Wildlife Viewing Program, Yukon, Canada, 2005
Hunters and Collectors, Poster and Invitation – Yukon Seasons – Illuseum Gallery, Amsterdam, The Netherlands, 2004
Ice-Floe: International Poetry of the Far North, Cover art – Duality, Summer 2002 and Candle Ice, Winter 2002 –  Issues, University of Alaska Press, Fairbanks, Alaska, U.S.A., 2002
Up From the Permafrost – 2002 Calendar, December – Literacy – Yukon Learn, Whitehorse, Yukon, Canada, 2002
Up From the Permafrost (Coffee Table Book), p. 18 – Literacy – Yukon Learn, Whitehorse, Yukon, Canada, 2000
On Yukon Time: Campbell Region – Faro Fannin – Arts Branch, Dept of Tourism and Culture, Yukon Government, Whitehorse, Yukon, Canada, 2002
Sculpture Forum Magazine, Brochure – Duality – Pothole Publications, St. Louis Park, Minnesota, U.S.A., 1998
Work also appears in numerous Yukon Government and Tourism related publications, Whitehorse, Yukon, Canada, 1999-2008
Media
Yukon University Ceremonial Antler